What distinguishes a "Sephardic Tallit" from an Ashkenazi, Chassidic or Yemenite tallit? The main distinction is a slightly different, more complex custom for tying the tzitzit followed by many Sephardim. Also, in many traditional Orthodox Sephardic congregations, a white tallit with white stripes instead of black stripes is customary.
Beit Yosef Tallit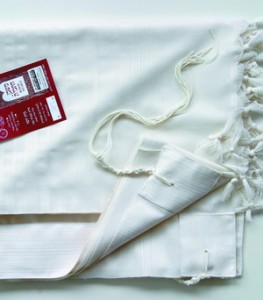 The Beit Yosef Tallit is made entirely of wool, including the atara (neckband) and the corners. The cream-colored fabric is a special weave treated for stain resistance and color retention. The unique weave lends the Beit Yosef Sephardic Tallit a subtle refinement that sets it apart from other traditional wool tallits.
Designed in accordance with guidelines set by Rabbi Ovadia Yosef zt"l, the Beit Yosef Tallit is certified kosher with tzitzit tied by a ben Torah.
Prima A.A. Wool Tallit
100% wool tallit gadol with a quality weave. Available with black or white stripes, black and silver, black and gold, blue and silver or blue and gold stripes. Comes with machine-spun tzitzits.
Hamefoar Tallit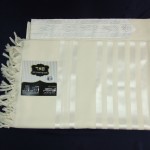 A top-of-the-line Sephardic tallit with a textured weave and superb finishing work. Various tzitzit options available.
~~~~~~~~~~~~~~~~~~~~~~~~~~~~