Oversize Kol Hanearim Tallit

If you're looking for a gift for your synagogue, this oversize Kol Hanearim tallit made of 100% wool adds greatly to the Simchas Torah festivities. The unique ceremony takes place just once a year, but is imprinted in children's memories for a lifetime.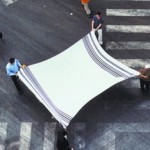 Size: 3 x 4 meters (9 x 12 feet)
Fabric: wool or acrylic
Can also be used as a wedding chuppah.