Our specialty is tallit and tzitzit, but periodically our customers ask if we sell shofars as well, or if we can recommend where to buy a ram's horn or Yemenite shofar. For a long time we simply referred them to other Judaica webstores that sell shofars.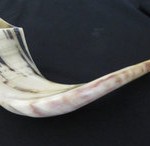 But something always bothered me: All of the webstores that offer shofars for sale use stock photos and write a note saying they are merely for illustrative purposes. In other words, what you see is not what you get. You order a ram's horn shofar or a kudu shofar, specify the size you want and choose black or brown, and they simply go and pull a shofar off the shelf and stick it in a box. (By the way, black and brown is a bit misleading, because most shofars are a combination of both.)
Of course one option is to buy a shofar on eBay or Amazon. But a lot of people don't feel comfortable working with eBay and Amazon sellers, who are not always solidly established, and since a portion of the sale goes to eBay or Amazon, prices may be higher.
I knew that with a bit of time and effort, we could create a high caliber shofar sales webstore that would enable the prospective buyer to see the shofar in details and choose exactly what he wants. So we started selling ram's horn shofars on our webstore.
Every time a new shipment comes in, we photograph, number, measure and catalog every shofar individually. Some people want a hefty shofar with a gnarly shape and a natural finish. Others would like to buy a smoothly polished shofar with an elegant shape.
To help prospective buyers find a shofar that has just the right the look, feel and sound, we provide a number of high resolution images of every shofar and write detailed descriptions of the shape, color and sound.
Also, for those interesting in purchasing a kudu shofar, we offer a wealth of information on a blog called Yemenite Shofar.